Praise for Plague Master: Sanctuary Dome –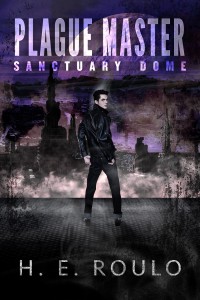 "A smart zombie novel with relatable characters you'll be rooting for until the end." -Emerian Rich, author of Night's Knights Vampire Series
"H.E. Roulo transports the reader to an eerie, futuristic environment. Her efficiency of prose will absorb readers of all ages. Macabre, frightening, but always hopeful." -Philip E. Carroll, author of Shooting Stars and Flypaper Boy
"PLAGUE MASTER by H.E. Roulo starts with a bang, is complicated by a kiss, and ends with a promise. This is a YA zombie love story like no other." –Jennifer Brozek, Author of THE NELLUS ACADEMY INCIDENT and APOCALYPSE GIRL DREAMING. Hugo award nominee.
"H.E. Roulo's Plague Master is fast-paced zombie sci-fi on a prison planet of the dying and the undead…"-Stephen North, author of Beneath the Mask.
About the Story –
When Samantha's brother goes missing, the trail leads to Julius Cerberon, the rich philanthropist who built a dome for the sufferers of mankind's newest disease.
Can she really accuse the universe's greatest humanitarian of murder?
Meanwhile, on a downtrodden planet, Trevor has the unenviable job of zombie bait. He saves his friend, but she is infected. They escape to the domed utopia where the infected are quarantined until they change. Then the dome breaks and a planet's worth of zombies invade.
And his friend could change any minute now.
 "A perfect mix of classic sci-fi and zombie horror. Once you start, you are hooked!"

-Jake Bible, author of LITTLE DEAD MAN and INTENTIONAL HAUNTING
Book Trailer
Buy it Now
In Print & eBook: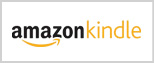 Already Bought?
Please consider showing your appreciation by leaving a review on any of the sites it can be purchased, or on Goodreads.

BONUS: Tie-in Audio Drama
Want a taste of the world? A full-cast audio drama is available from Omega Road Chronicles. Episode 3, "The Killer with Eyes of Ice" helped inspire the novel. The audio is 40 minutes long. Learn more here.
Or listen to the promo here:
About the Author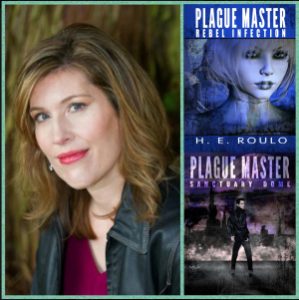 H.E. Roulo is the author of the Plague Masters series. Her short stories have appeared in over a dozen magazines, anthologies, and podcasts. Recent publications include Fantasy magazine's Women Destroy Fantasy special issue, Nature Futures 2, and Blood Type: An Anthology of Vampire SF on the Cutting Edge.
The serialized release of her podcast novel Fractured Horizon was a 2009 Parsec Award Finalist for Best Speculative Fiction Story. She co-hosted the author interview podcast Podioracket.com from 2009 to 2012.
She lives in the beautiful Seattle area with her husband, two children, and a fluffy dog.
Follow Heather on twitter @hroulo or visit her website heatherroulo.com.
Please consider sharing this post and spreading the word.