admin on January 19th, 2015
Worldcon is conveniently located in Spokane this year, which is just a hop over the Cascade Mountains from Seattle. It will be my first Worldcon.
I am in the second year of eligibility for the Campbell Award. My name is listed in great company. I recognize name of friends in my current critique group including Luna Lindsey and Shannon Peavey, as well as familiar authors such as Gary B. Phillips, Dan Rabarts, Django Wexler, and Cliff Winnig.
For a full list of eligible authors, check out http://www.writertopia.com/awards/campbell and if you're a Worlcon member, consider nominating.
I am particularly proud of the story "Immeasurable" published in Nature and "Making the Cut" from Fantasy: Women Destroy Fantasy special issue.
Here's my bibliography, including links to the stories available online for free so you may become familiar with my writing:
Tags: Campbell Award Eligible, Cliff Winnig, Dan Rabarts, Django Wexler, Gary B. Phillips, Luna Lindsey, Shannon Peavey
admin on January 7th, 2015
I've received an early schedule of the panels I'll be on for Rustycon 2015, which is a science-fiction convention located near Seattle on January 16-18. The guest of honor is Timothy Zahn. I'm posting my schedule so that you can make sure to say hello.
A few quick news items first:
I wrote a fun blog post for HorrorAddicts.net, and it's now on their website. If you have a second, check out New Year's Resolutions are for Everyone, Even the Undead.
I have some upcoming live reading events. I'll make a bigger post, but wanted to give blog subscribers early word. On February 22, from 1-4 PM, Cascade Writers and King County Library Systems are sponsoring an event at the Fairwood Library! Ken Scholes, Laura Anne Gilman, and I will read and take Q & A. If you're in the Renton, WA area, I hope you'll drop by.
I am also reading Saturday, April 18th from 2-4 PM at the Lakewood Library (south of Tacoma). Speakers are Alaina Ewing, Mark Henry, and me. Also sponsored by KCLS and the Cascade Writers.
The Rustycon Schedule January 16-18 (tentative and still subject to change)
Fri Jan 16 6:00:pm

Fri Jan 16 7:00:pm

Plotting and Planning

Orcas B
Outlining, snowflakes, the Hero's Journey and the three-act structure offer a framework for laying out the story to come. If you understand where the story is going, and when events have to happen, you can focus your energy on improving events and characters. So what's the best way to plan? And what about when all that planning goes awry?

H.E. Roulo

Janine A. Southard

Timothy Zahn

Will McDermott
Fri Jan 16 7:30:pm

Fri Jan 16 8:00:pm

Heather Roulo Reading & Discussion

Mercer B

H.E. Roulo
Sat Jan 17 11:00:am

Sat Jan 17 12:00:pm

Zombies- They Ain't Dead Yet

Emerald D
Some say that Zombies are past their prime. However, since 1932, with the release of "White Zombie", the mindless undead have been a thing of nightmares. They have become so popular even the CDC has a section entitled "How to survive a Zombie attack"… What is the secret? What makes zombies so frightning? Why are they not going anywhere (slowly, shufflingly)?

H.E. Roulo

John Lovett

Julie Hoverson

Shoshana Glick
Sat Jan 17 12:00:pm

Sat Jan 17 1:00:pm

Make your own Podcast

Emerald F
It's really not that hard. All you need are some simple tools and a relatively clear speaking voice.

H.E. Roulo

John Lovett

Julie Hoverson
Sat Jan 17 5:00:pm
Sat Jan 17 6:00:pm
YA and New Adult
Orcas B
YA continues to gain in popularity as adults and teens are impressed by the quality fiction in this genre. We'll discuss what makes a story YA, tips for what to include and avoid. Is this market worth pursuing even if you don't consider yourself a YA author? Has Hollywood gotten ridiculous in its search for the next YA series?

"Gibbitt" Rhys-Jones

A. Maire Dinsmore

H.E. Roulo

Janine A. Southard
Sat Jan 17 6:00:pm

Sat Jan 17 7:00:pm

Joss Whedon and His Universes

Orcas B
Buffy, Angel, Alien, Firefly, Marvel: These things have one man in common… Joss Whedon. Love him or hate him… Come talk about how he has shaped modern tv and movies.

Chris Nilsson

H.E. Roulo

Kalyn Nilsson

Shoshana Glick
Sun Jan 18 3:00:pm

Sun Jan 18 4:00:pm

Story submission: how to format your story.

Orcas B
How DO you format your submissions ? What is manuscript format and why is it so important. Where do you find submissions guidelines? From formatting to managing simultaneous and multiple subs, this panel will review submission definitions, tips, tricks, and reasons why proper formatting can get you noticed in the slush pile.

H.E. Roulo

Jeremy Zimmerman

John Lovett
I'll also be a pro writer for a critique session.
Say hello to me if you attend the convention!
Tags: Alaina Ewing, Cascade Writers, Convention schedule, Fairwood Library, KCLS, Ken Scholes, Lakewood Library, Laura Anne Gilman, Mark Henry, panels, Rustycon 2015
admin on January 1st, 2015
When I was a consultant, metrics and tracking as went along with every project. Work must progress toward clearly set goals.
This is an appropriate time to look back on my last year and see the progress I've made.
Short Story Publications
I submitted 29 short stories, and was rejected 19 times. Some stories are still pending responses.
Sold four stories:
Besieged in InfectiveInk (free online, though format is a little difficult to read)
Making the Cut in Fantasy: Women Destroy Fantasy (available from Fantasy in issue #58)
Death Incarnate in Siren's Call (free online issue #14 May 2014)
Dead Pets will appear in The Horror Addicts Guide to Life in 2015.
Two more came out in anthologies:
And Emerian Rich and I released Rich & Roulo: Ruins, volume two of the experimental Rich & Roulo companion stories.
Novels
I sold the three-book Plague Masters series to Permuted Press. The first book, Zombie Dome, will be available around April 2015.
Completed edits on Zombie Dome, and wrote the first draft of the sequel Apocalypse Plague.
Awards and Appearances
Appeared as a panelist at Rustycon, enjoyed the Rainforest Writers Retreat, joined SFWA, and received Honorable Mention from Writers of the Future for "Roadkill."
What's coming in 2015?
I will make appearances at Rustycon, Norwescon, Baycon, and Worldcon. My first book, Zombie Dome, will be available for purchase midyear. There may be an audio drama produced by Necropolis Studio Productions, and Emerian Rich and I have plans for the next volume of Rich & Roulo. I am also hoping to have time to finish two urban fantasy novels. I'll complete edits on Apocalypse Plague, and write the third installment of the Plague Masters series.
This year has been tremendous for me, and I'm planning on more of the same. Thank you to everyone who has supported my progress!
How was your year? What are your goals?
And on a less serious note, a blog post I wrote will be appearing on the horroraddicts.net blog with the "7 New Year's Resolutions of a Zombie". I'll let you know when it's out!
Tags: Metrics, writing progress tracking, writing statistics
admin on October 1st, 2014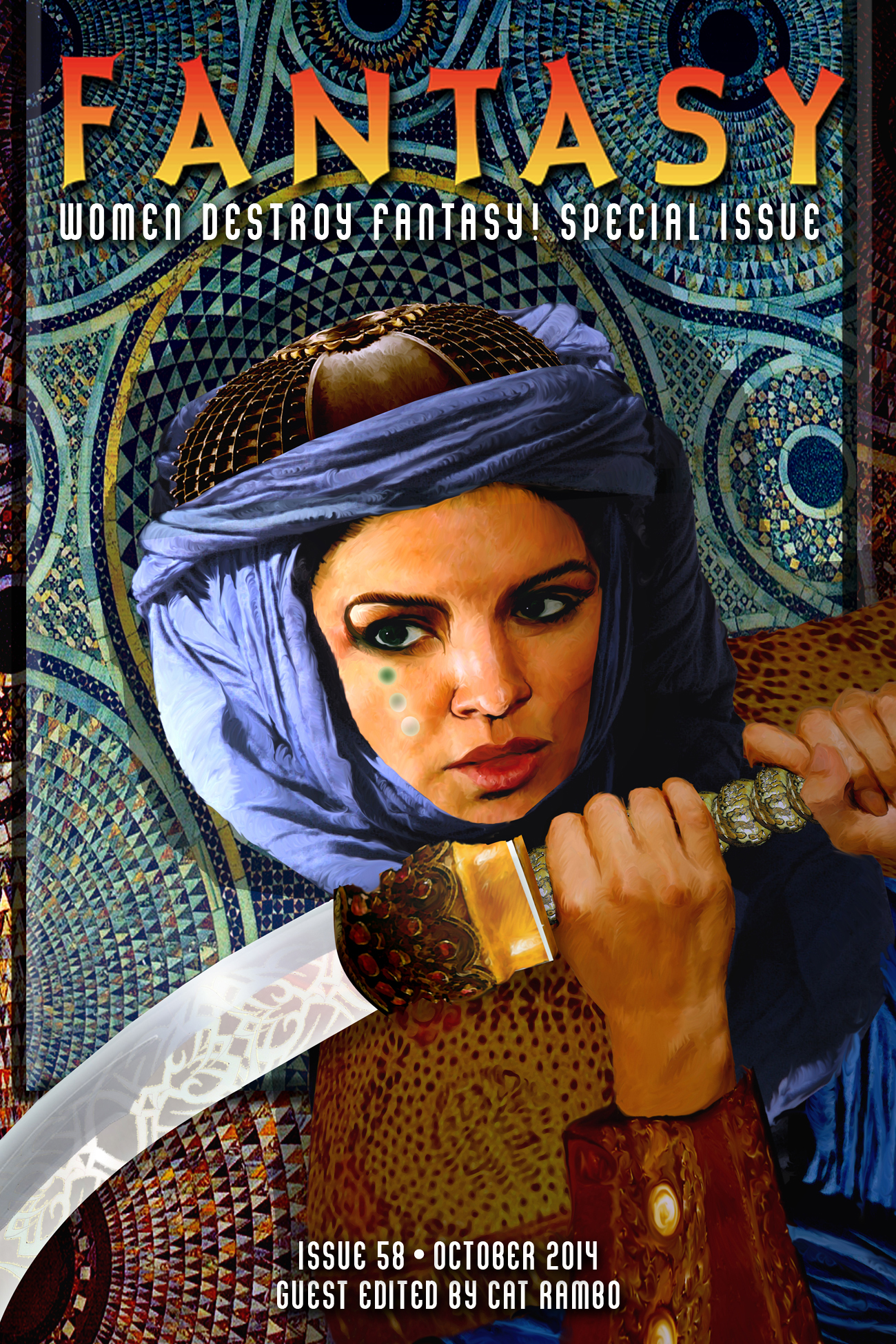 Wonderful news!
Lightspeed Magazine's amazing Women Destroy Science Fiction and Women Destroy Horror series continues with the release of Women Destroy Fantasy. This anthology includes my short story "Making the Cut" and an interview. I'm justifiably proud to be included in such an amazing collection, and can't wait for you to read my short story about a superhero seeking help.
You can find the ebook edition in their ebookstore. Other purchasing options include the trade paperback edition, and all of the Women Destroy anthologies can be found on Lightspeed's new DestroySF website. The issue is also available on Amazon, Barnes & Noble, Kobo, and Weightless Books, all of whose links can be found by going to the issue page and selecting the Purchase button.
Blurb: LIGHTSPEED is an online science fiction and fantasy magazine. In its pages, you will find science fiction: from near-future, sociological soft SF, to far-future, star-spanning hard SF—and fantasy: from epic fantasy, sword-and-sorcery, and contemporary urban tales, to magical realism, science-fantasy, and folktales. Funded as a stretch goal of LIGHTSPEED's Women Destroy Science Fiction! Kickstarter campaign, this month we're presenting a special one-off issue of our otherwise discontinued sister-magazine, FANTASY, called Women Destroy Fantasy!: an all-fantasy extravaganza entirely written—and edited!—by women. Here's what we've got lined up for you in this special issue: Original fantasy—edited by long-time FANTASY editor Cat Rambo—by Kate Hall, H.E. Roulo, T. Kingfisher, and Julia August. Reprints—selected by legendary editor Terri Windling—by Delia Sherman, Emma Bull, Carol Emshwiller, and Nalo Hopkinson. Nonfiction articles—edited by LIGHTSPEED managing editor Wendy N. Wagner—by Kameron Hurley, Galen Dara, Sandra Wickham, Shanna Germain, Sofia Samatar, Kat Howard, and Wendy N. Wagner. Plus an original cover illustration by Elizabeth Leggett.
Tags: feminist, John Joseph Adams, Lightspeed, Making the Cut, Middle East, superhero, Women Destroy Fantasy, Women Destroy Horror, Women Destroy SF
admin on August 6th, 2014
The Futures 2 anthology from Tor books is now available to pre-order as an ebook.
100 writers – including Neal Asher, Elizabeth Bear, Gregory Benford, Tobias Buckell, Brenda Cooper, Kathryn Cramer, David Langford, Tanith Lee, Ken Liu, Nick Mamatas, H.E. Roulo, Norman Spinrad, Ian Stewart, Rachel Swirsky, Adrian Tchaikovsky,  and Ian Watson – offer their take on what the future will look like in this anthology of sci-fi short stories from the award-winning Futures column in the science journal Nature.
My flash story "Death Incarnate" is now available in the free online magazine Siren's Call with the theme Old School Horror.
The magazine is large, a hundred pages or so. You can find my flash piece on page 12 of issue #14.
The new Rich & Roulo short story volume 2 just released on Amazon.
Like Volume 1: DESIRE, Volume 2: RUINS contains a pair of short stories.
Emerian Rich wrote a mummy horror story.
My story, Great Asp, is a dark fantasy story about a woman warrior struggling to survive in the ancient world. The incarnation of Death haunts her journey, tempting her with the opportunity to become an immortal hero and ignore the terrible task she has set for herself. Great Asp first appeared as a podcast story on HorrorAddicts.net.
The new Rich and Roulo: RUINS
is now available as an ebook from Amazon for $0.99.
admin on April 16th, 2014
I'm thrilled to announce that publisher Permuted Press has signed a multi-book deal for my new Plague Masters series. Their tagline is "Enjoy the Apocalypse," and I think they are an ideal fit for my YA science-fiction zombie series.
Here's more about Permuted Press:
Permuted Press was established in 2004 with a modest goal: to produce a single, high-quality zombie anthology titled The Undead. From this simple goal grew a publishing company that has published over 80 titles targeting the apocalyptic, post-apocalyptic, and survival horror fiction markets. Permuted Press has relied heavily on the power of the internet and advances in publishing technology to establish itself as one of the best known publishers in the apocalyptic niche. Permuted has utilized print on demand (POD) technology, eBooks, and grassroots internet marketing to catch and cater to its ever growing fan base.

Permuted's greatest successes include Plague of the Dead by Z.A. Recht (originally published online), John Dies at the End by David Wong (now from St. Martin's, movie coming in 2013), Day by Day Aramgeddon by J.L. Bourne (originally self-published), Ex-Heroes and 14 by Peter Clines, and The Infection by Craig DiLouie.

In mid-2008, Permuted was approached by Borders/Waldenbooks with special stocking terms. This allowed Permuted to continue producing its releases with POD technology, while bringing its special brand of apocalyptic mayhem to fans nationwide.

In mid-2009 Permuted entered a co-publishing venture with Simon & Schuster to release co-branded editions of some of Permuted's most popular titles as well as new, original titles contributed by Permuted. Initially set to include 7 titles, the venture has since grown to include 12 titles with releases scheduled into 2012.

As of late 2009, most Permuted new releases debut in both trade paperback and eBook formats; with over 50% of the total catalog available in eBook edition for Kindle, nook, iBooks, and other formats. With the swift growth in the eBook market, many Permuted eBooks outsell their trade paperback editions by 2 to 1 or more.

In late 2010, Permuted inked a deal with Audible.com to produce audiobook editions of 11 of its most popular titles in a special event during summer 2011. Audible.com continues to produce audibook editions of most Permuted releases, with Peter Clines 14 reaching the #1 bestseller spot in the Audible.com sci-fi/fantasy category in mid-2012 and again in October, 2013. The Permuted Press relationship with Audible.com now extends audiobook editions to most of the titles we publish.
The book deal took many years of writing and the support of some amazing friends. Please congratulate me, and rest assured I'll let you know as the books become available.
Tags: Permuted Press, Plague Masters
admin on January 14th, 2014
Read my short story Besieged online for free at InfectiveINk.com. Their theme for the month is Fairytales.
When I think of  fairytales, my mind harks back to Spencer's fairy queen, tales of souls lost in the woods, the battle between paganism and Christianity, the feminine and masculine. In this story, the language and style is more elaborate than I'd usually indulge in, but not taken too far, I hope. I don't believe I use thee or thou, though there may be a 'tis or two.
Blurb: In Besieged, Isabelle is lost in the woods. Unable to find her way back, resisting the fairy queen's lure to join the world of the fae, she survives in a twilight dimension of mushrooms and magic. She remains trapped between worlds until a wandering knight enters the fairy glen. He threatens the delicate equilibrium she'd achieved, and if they cannot trust each other they mayboth be delivered into the queen's hands. But fairies are the most devious of creatures, and the past Isabelle fled is the key to her ultimate choice to move on, or join them.
If I can shake the cough that's struck me down over the last few weeks, I plan to attend Rustycon from January 17-19. Hope to see you there!
Tags: besieged, fairytale, free online short story, InfectiveINk.com