My short story The Pirate is now available through Flagship Magazine along with stories by Brand Gamblin, Mike Plested, and Philip Carroll.
The Pirate gives you sci-fi with a sense of fun. Much more optimistic than the horror shorts you may have heard from me recently.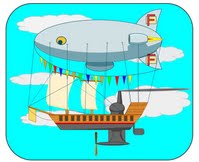 The Blurb: What do you do when you are born in a paradise, that has never heard of the profession you born into?  You go with it, you play it to the hilt and you live you life by no ones rules but your own.
Want to know more about Flagship? Here's how the editor, Zach Ricks, explain what they're looking to put together:
With our first magazine, FlagShip, I wanted to hearken back to what some have called the Golden Age of Science Fiction. The people we regard as the grand masters of genre fiction, or a lot of them anyway, got their start writing in the "pulps". There was a sense of optimism and hope in those old stories that I miss in more recent science fiction. Fantasy has been largely immune from this trend, so far as I know, but I worry about the negativity, the cynicism, and the pseudo-sophistication of the culture. In response to that, I have some specific things I want to accomplish.
He goes on to list 3 goals.
I love the optimism and the pulpy goodness of past masters and knew I had the perfect story. I'm glad that Flagship Magazine agreed.
The magazine is $1.99 for audio or etext versions, and $2.99 for both.