I hope you had a chance to listen to the entries for the 2010 Wicked Women Writer's challenge.
The worthy Rhonda R Carpenter was crowned the new Most Wicked. It's great to pass along the honor and responsibility to my fabulous Podioracket.com partner. I'm sure she'll have a blast running next year's contest. Congrats, Rhonda!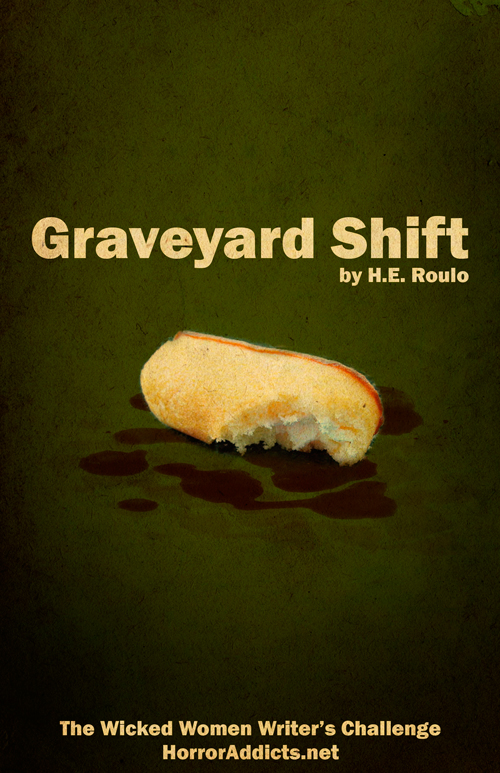 This year's contest inspired fan art for my winning story from a year ago, and I don't want to miss a chance to post this great image by Devlin Donnelly.
If you remember, my story was about a guy who keeps re-burying a coffin which may or may not contain his lovely wife– a woman who sent heart shaped sandwiches and Twinkies in his lunchbox.
I like the art. What do you think?
You may also have noticed that on October 17th I added a short story to the Fractured Horizon Novel feed. It is the short story Great Asp & Little Death, which first appeared on HorrorAddicts.net. I thought I'd add a little fanfare and mention it here, in case you missed it on Horror Addicts and aren't subscribed to the novel.
Listen Now to Great Asp & Little Death:
In the fantasy story Great Asp and Little Death, Death stalks a woman-warrior of near mythic proportion fresh from battle and dealing with her husband's death and her own imminent demise. Will she achieve hero status and be made immortal? Or will the wounds to her heart and body give her over to Death first?
Waiting to hear about the new stuff? I'll do another post before the end of the year talking about upcoming projects and responding to the FANTASTIC COMMENTS some of you have left. Love it!