H.E. Roulo and HorrorAddicts.net Press proudly present: Plague Master: Rebel Infection
The dramatic sequel to Plague Master: Sanctuary Dome, and second book in the Plague Master Series, is now available.
Enter the World of PLAGUE MASTER: REBEL INFECTION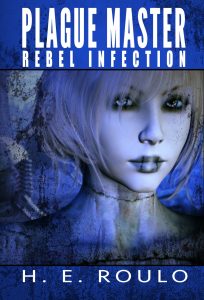 Trevor's return from the zombie infection makes him unique. It also makes him dangerous.
He's a hero on his homeworld, celebrated for finding a vaccine against the zombie virus, but the ruling Founders don't trust him and his low origins. When the revolution comes, Trevor is caught in the middle.
Despite his homeworld's troubles, a message from a Plague Master forces Trevor to seek reinforcements. He hunts for Kristin, the woman he left behind, and an answer to why the vaccine is failing.
He and his friends must fight on space stations and worlds overtaken with infected to discover the terrible truth about his cure.
New to the Plague Master Series? Find the first book here:
When Samantha's brother goes missing, the trail leads to Julius Cerberon, the rich philanthropist who built a dome for sufferers of mankind's newest disease. Can she really accuse the universe's greatest humanitarian of murder?
Meanwhile, on a downtrodden planet, Trevor has the unenviable job of zombie bait. He saves his dream girl, but she is infected. Her goodbye kiss forces him to escape to the domed utopia where infected are quarantined until they change–but he will never change, isn't infected, and has to keep kissing the girl to pass the tests. Not a bad deal, until the dome breaks and a planet-worth of zombies invade.
And his girl could change any minute now.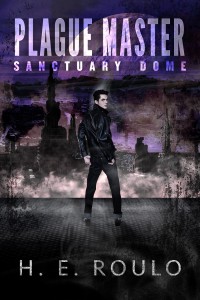 PRAISE FOR
PLAGUE MASTER: SANCTUARY DOME
"A perfect mix of classic sci-fi and zombie horror. Once you start, you are hooked!"
-Jake Bible, author of Little Dead Man.
"Sanctuary Dome starts with a bang, is complicated by a kiss, and ends with a promise. This is a YA zombie love story like no other."
-Jennifer Brozek, author of Apocalypse Girl Dreaming
"A smart zombie novel with relatable characters you'll be rooting for until the end."
-Emerian Rich, author of Night's Knights Vampire Series
"Sanctuary Dome is fast-paced zombie sci-fi on a prison planet of the dying and the undead."
-Stephen North, author of Beneath the Mask
"H.E. Roulo transports the reader to an eerie, futuristic environment. Her efficiency of prose will absorb readers of all ages. Macabre, frightening, but always hopeful."
-Philip E. Carroll, author of Shooting Stars
H.E. Roulo is a Pacific Northwest writer of science-fiction, horror, and fantasy. She earned a BA in English from the University of Idaho and is an SFWA member. Her science-fiction novel Fractured Horizon was a Parsec Award Finalist. She's had dozens of short stories published in anthologies and magazines and was the winner of the 2009 Wicked Women Writers contest. Recent publications include Fantasy magazine (Women Destroy Fantasy special issue), Nature Futures 2, and Blood Type: An Anthology of Vampire SF on the Cutting Edge. She co-hosted the author interview podcast Podioracket.comfrom 2009 to 2012.