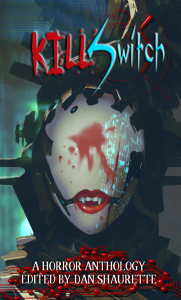 The release of HorrorAddicts.net's future-horror anthology went well. The book is out. If you're interested, I'm sure they'd love more reviews on Amazon.
An excerpt of my short story, "Angels Don't Fear Heights," was featured on Haunt Jaunts.
In "Angels Don't Fear Height," Gabriella's father dies but his wealth and technology allow him to run instances of himself, briefly possessing other people. Gabriella is determined that his control over her life must not continue from beyond the grave.
Check out the excerpt here. You may check out the full anthology on Amazon.