Along with my co-host for Podioracket.com, Rhonda R Carpenter, I will be interviewed on Blog Talk Radio. Our host will be J.D. Sawyer, author of The Antithesis Progression, Sculpting God, Down From Ten, the host of The Polyschizmatic Reprobates Hour and a regular contributor to LinuxJournal Magazine. We'll be discussing Podioracket.com, BTR, Fractured Horizon and The Mark of a Druid. Be there LIVE at 6pm Pacific/9pm Eastern on Thursday, September 17th. Set a reminder! And if you miss the interview, be sure to check it out in archive. As an incentive to you, let me say that prizes will be awarded during the show to chat-room and call-in participants. For example. . .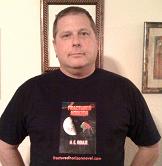 I was unable to attend Dragon*Con where the Parsec Awards for 2009 and were presented. Twowire kindly agreed to supply Podioracket with live updates and would have accepted the award for me if I had been fortunate enough to win. In gratitude, I sent him a couple t-shirts and he responded by sending this picture. What a great guy! And stylish, too!
It really is the interaction and support of fans and friends that keeps Fractured Horizon growing. Fractured Horizon is currently featured on the main page of Storycasting.com and fans have created six dream casts for the book. I love seeing how you guys envision the characters! Check it out and see whether you agree. Add your thoughts.
I'm participating in the upcoming Wicked Women Writer's contest and I'm really hoping you'll come listen to the tales, love my entry, and vote for it! The host of Horror Addicts, Emerian Rich, is planning a special live Second Life event to kick off the contest. The Live taping of Episode 31 takes place on October 7th at 7:30 pm PST in Second  Life at 22 Gutenberg Ave on Book Island.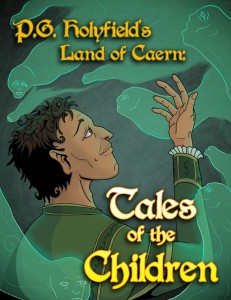 In addition to my work on Podioracket.com, I'm currently working on a short story for Tales of the Children for P.G. Holyfield as well as an audio drama for Necropolis Studio Productions. I'll let you know more about those as we get closer to publication.