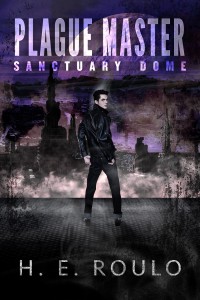 Wednesday, May 27th 2015 is the LAST DAY to enter the Goodreads Giveaway for free signed copies of Plague Master: Sanctuary Dome!
If you don't win, you can buy copies at Amazon in print or ebook. If you had your heart set on a signed copy,  you can contact me to purchase the book and I'll sign and mail a copy directly to you. Find me on twitter at @hroulo or on Facebook at facebook.com/heroulo.
WIN AUTOGRAPHED COPIES!
A teenager must fight when zombies overwhelm his dome-protected city.
"A perfect mix of classic sci-fi and zombie horror. Once you start, you are hooked!" -Jake Bible, author of Little Dead Man and Intentional Haunting.