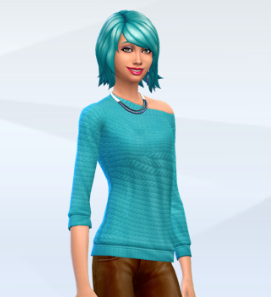 Hi! This is Sparklyjemz, the teenage writer, and this is my second week posting about the characters in Plague Master: Sanctuary Dome. I've been making SIMS characters that looks like and have traits like in the book. don't forget to look at the bottom of the picture to see my favorite quote!
Last week I did Trevor and it was so fun!
This week we're taking a look at Kristin.
Kristin is very sweet to Trevor, even though when they meet he kills her dad, and steals her grasshoppers. (thin mints)
I love her artistic personality and silver angelic hair. Making her was a blast!
Kristin Olsen
Traits: art lover, because she loves painting. It's probably hard to get anyone to think about art when so much is going on. People may have thought it was silly to paint at a time like that. Creative, because you need to be creative to make great art, and good, because she is.
Job: she was a student who occasionally worked at her parents art gallery. I wonder if she ever drew characters from books…
Clothes: she has silvery hair because Trevor seemed to think she was a silver haired angel. A blue cardigan because it seems pretty but not over the top, and jeans because she changed into new jeans after hers got all ripped and bloody… yuck.
Family: dead mom, dad who was a zombie, and her brother Russ. (the one who used to own Trevor's coat)
The Interesting Stuff: Trevor and Kristin make such a cute couple! Even though I like Elena more, I think he should end up with Kristin. I don't think she has a big enough part in the first book. Even though Trevor is thinking of her a lot, there isn't enough of her. I hope we see more of her in the next book… if she isn't dead. (;
Last week: Trevor
Next week: Hailey